Advantages of Elevated Materials's Carbon Fiber Parts
Made from the Highest Quality Carbon Fiber
Our parts are made from carbon fiber sheets and blocks that we manufacture in-house. We specifically design our carbon fiber parts to provide an outstanding and consistent finish that fulfills or exceeds your specific performance requirements.
Production Volume Flexibility
We have decades of experience with carbon fiber part manufacturing, and are flexible enough to fill both large and small orders. We can take your vision from prototyping to high-volume production.
Extensive Carbon Fiber Expertise
Carbon fiber manufacturing is a different beast than traditional materials, and you need a supplier that understands the unique challenges and nuances of the process. At Elevated Materials, we have extensive expertise creating carbon fiber part solutions for clients across a wide range of industries.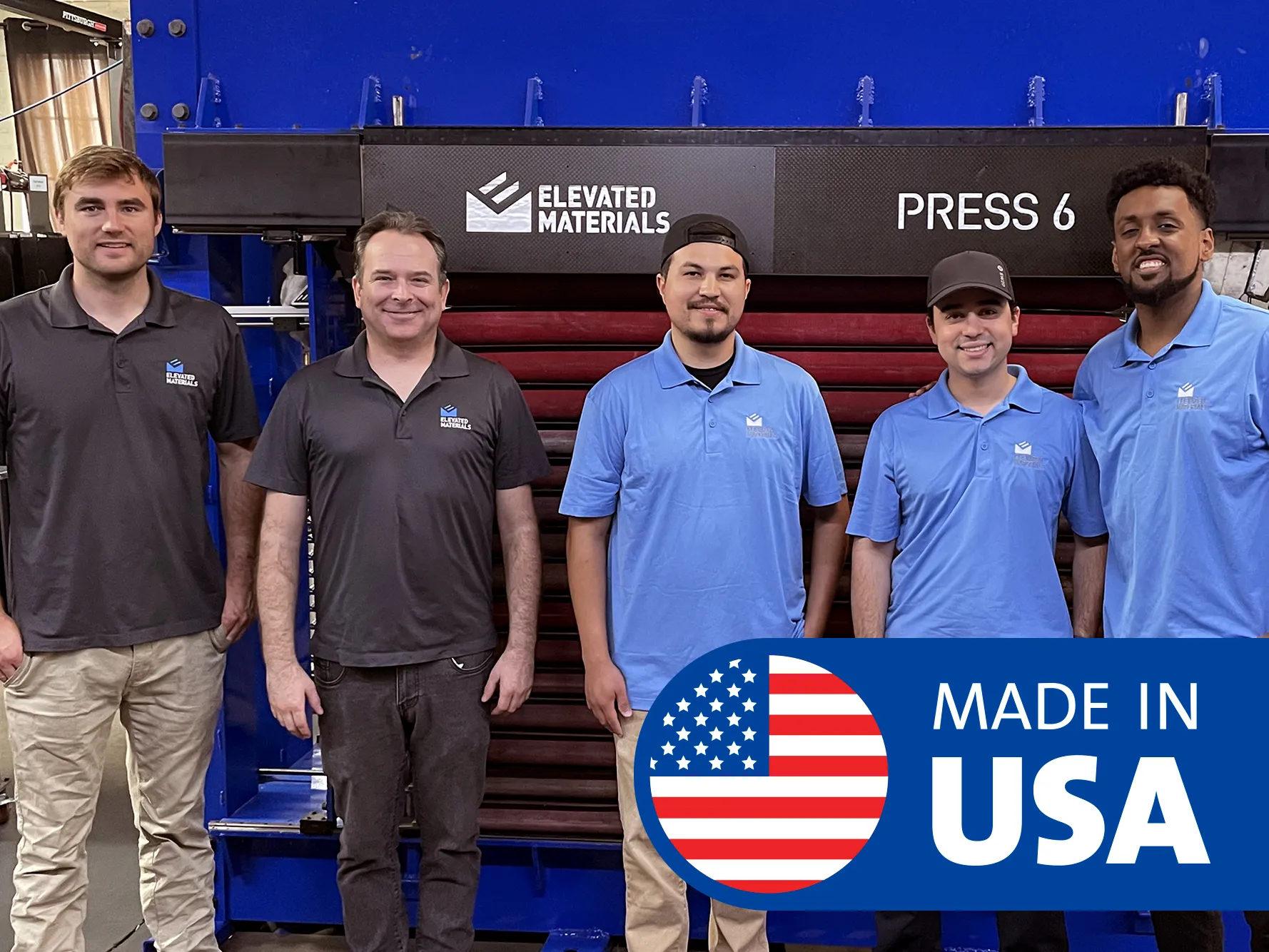 Made in the USA
All of our carbon fiber parts are manufactured in the United States by Elevated Materials. By choosing to keep our manufacturing in-house, we minimize supply chain issues and can fulfill your order reliably on time-every time.
Customization Options for Elevated Materials's Custom Carbon Fiber Parts
Complex Three-Dimensional Features

Simultaneous 5 Axis Milling

Robotic Machine Tending
Chamfers and Fillets

Countersinks

3D Contours

Threads and Inserts
Plain Weave

Twill Weave

Uni-Directional Weave

Any other weave with customer-provided prepreg material
Gloss

Matte

Peel Ply/Bond Prep Finish
Parts from 1/4" (6mm) to 66" (1,675mm) long
Parts from 1/4" (6mm) to 29.5" (750mm) wide
Parts from 1/64" (.4mm) to 4.5" (115mm) thick
Why Parts Machined from Press Cured Carbon Fiber Stock Have Superior Performance Characteristics and Finish
Parts machined from press cured carbon fiber stock offer more consistent machining compared to resin infused carbon fiber stock, due to their consistent and controlled material properties. Carbon fiber layers are subjected to heat and pressure during press curing, resulting in uniform distribution and fiber alignment, minimal variations in density, and a reduced likelihood of voids or defects.
Contact Us Today to Get Started
Submit an RFQ for
Carbon Fiber Parts
A Few of Our Satisfied Customers